Lawn Core Aeration Service in Watkinsville, GA
Professional Lawn Core Aeration Service in Watkinsville, GA
When it comes to lawn care, core aeration is often at the bottom of the priority list of many property owners. However, this seemingly basic task can make a huge difference in the health and appearance of your lawn. That's why at Turf Pros, we make sure to help property owners in Watkinsville, GA understand the benefits of soil aeration, and provide them the best lawn core aeration service in Watkinsville, GA and the surrounding areas. Contact us today at (706) 255-6405 to get started.
To best understand how lawn aeration works, you need to know a little bit about what's happening below the surface of the soil. Over time, soil can become compacted, which limits airflow and the ability of water to drain. When this happens, the roots of your turfgrass will also have a hard time reaching the soil depth where they can receive oxygen. This becomes a problem because the lack of oxygen reduces the ability of your turfgrass to absorb key nutrients from the soil, resulting in yellowing and thinning of your lawn.
With core aeration, we use a machine to remove small cores of soil from your lawn. This loosens up compacted areas, allowing for improved airflow and better water drainage. It also helps break down thatch, which is a layer of organic matter that builds up on top of your lawn. Aerating your lawn using this method ensures full contact between the soil and turfgrass roots, allowing for better nutrient absorption.
Why is Lawn Aeration Important?
Lawn aeration is essential to maintaining a healthy lawn. It can best be compared to how humans need oxygen in order to survive. Without the right amount of moisture and oxygen, the roots of your turfgrass will suffocate—resulting in brown patches that are difficult to bring back to life.
Here are other important reasons why lawn aeration should be part of your lawn care routine:
Improved Drainage
When you aerate your lawn, you're relieving soil of compaction and allowing water to drain. This means that more moisture is pulled into the root zone of your turfgrass, which encourages better root growth. It also prevents excessive ponding of water, which can cause problems such as fungal diseases and root rot.
Stronger, Denser Turfgrass
Aeration allows for better distribution of essential nutrients like nitrogen, which your lawn needs in order to stay lush and healthy. As a result, your lawn becomes thicker and greener, and more resistant to pests and diseases. It can also withstand heavier foot traffic, without easily showing any signs of wear and tear.
Lessens the Need for Fertilizing
An aerated lawn can absorb nutrients more effectively, reducing the need for frequent fertilizing. Lawns that suffer from poor drainage and compacted soil require more frequent applications of fertilizers and lawn care products. This can be expensive, time-consuming, and bad for the environment. By aerating your lawn, you'll also be saving money on lawn care costs. 
Thatch Control
Aeration breaks down thatch, which is the layer of organic matter that accumulates above the soil. Thatch isn't harmful to your lawn, but it can cause problems if allowed to accumulate too much. If you see your lawn becoming greener during certain parts of the year, but staying brown and bare in other areas, then you probably have a thatch problem.
Why Choose Turf Pros for Your Lawn Aeration Needs?
Here at Turf Pros, we understand the best ways to care for your lawn, which is why we have a highly-trained team that specializes in lawn aeration. We use our very own commercially-designed core aeration machine when performing this service, so we are capable of working on any size property with ease. We are also fully licensed, bonded, and insured, with the best guarantee in the industry. Plus, our rates are very competitive, and we offer free estimates and flexible scheduling.
Contact us at (706) 255-6405 or use our online contact form to schedule an appointment for lawn aeration in Watkinsville, GA today.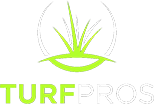 There is absolutely zero risk to give Turf Pros a try. You are protected by our iron-clad "You'll love it or we'll pay for it guarantee"
1260 Old Greensboro Rd
Watkinsville
,
Georgia
30677
Monday, Tuesday, Wednesday, Thursday, Friday
9:00 am – 5:00 pm